Victorian Ball, Bath 28th April 2018

Dance the night away in Victorian finery!
Following the success of the last four balls we organized,
(Spectacular Masquerade in 2013 and the Victorian ones in 2015, 2016 and 2017), we are now returning to our beautiful venue, the amazing Assembly Rooms, in the historic city of Bath.
You can read about the 2015 ball here, an about the 2016 ball here !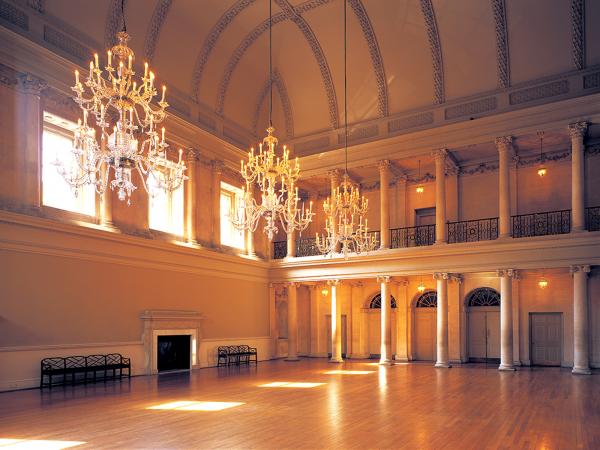 Pass the night away dancing polkas, waltzes and quadrilles; swanning around in ball gowns and tailcoats, sipping drinks, nibbling delicacies from the finger buffet and posing for professional photographs.

The dances will be mostly called and explained by our wonderful Dance Master - Stuart Marsden, and for those who would like a bit more practice there will be dance workshop earlier in the day.

There will be a cash bar at the venue, and a finger buffet ( meat and veg options) will be served mid evening to revive the spirits and body.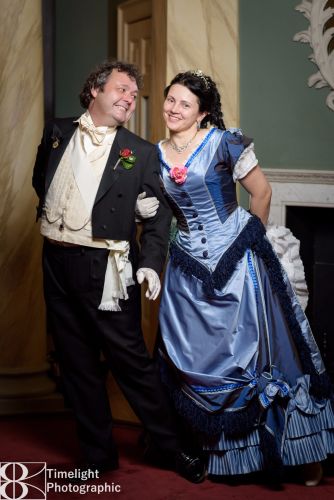 Over 18 please, (16 plus if accompanied by an adult)
Please note, it is not a re-enactment or role playing event. Be yourself and enjoy yourself!
This is an inclusive event - all nationalities, genders, sexual orientations, ethnicities etc are welcome - as long as your passion is history of fashion, dancing etc, and you are appropretly dresses, you are cordially welcome.
In the past years the ball attracted visitors ot only from all over the U, but from the USA, Ireland, Russia, Neatherlands, Switzerland, Spain, Italy, France, Poland, Hungary and Finland - and probably some more!
Dress code -
Black tie, Victorian. We are aiming at a high lever of authenticity - and the previous balls were remarkable especially for the high quality of clothing - either made bespoke, hired or homemade. We wish to continue this trend and drive the quality even higher as more and more people comment on how incredible the feeling is - live music, dimmed lights, silk and lace swishing around, past elegance at its best!
There is a support group for those who make their own attire, as well as specific costuming/corsetry courses over the year.
For those who prefer to purchase their finery, there are a few companies, ours included, who are offering discounts for the ball goers as well, whether for bespoke or off the peg items. The list of the official dressmakers, milliniers, tailors etc who offer the discount will be published in a few weeks and updated regularly.
Good quality Victoriana is welcome too, and if you are new to the world of historical balls and want a taster before you embark on a sewing hobby, modern evening attire is acceptable - Long skirts required, no strapless dresses or nudity please.
It is much easier for gents - modern black tie is fine!
This is not a Steampunk, Goth, Cosplay or Fantasy event - there is a number of other balls catering for these themes.

The 2018 sub- theme is Natural Form Era ( 1876-1882)
This is completely optional, if you want to participate, you will be fine in other Victorian decades as well. We are working our way from Crinoline and 1st Bustle style - next year, it will be Second Bustle!
Throughout the year I will be posting information, advice, tutorials relevant to the style etc - plus there will be further perks for the ones making their own garments.
If this is not a style you want to go for, that is not a problem at all, you will be just as fine wearing bustle, belle epoque, or crinoline- the most important thing is that you feel fabulous in whatever you are wearing:-)
Important notice: Ladies, please remember that long trains are a trip hazard. Natural form is famous for spectacular long trains - and that is fine. Have the train, flaunt it on the entrance, flowing after you, display it fully for the photos, but for the dancing, all the ladies are required to hold their trains up, or pin them up or bustle them. It will not only be a historically authentic thing to do ( period dancing books do advise that as well, rather a lot!), but it will be much safer both for you, other people, and your dress. You will also enjoy the dancing much more not having to worry constantly about tripping over.... So be fabulous - but safe too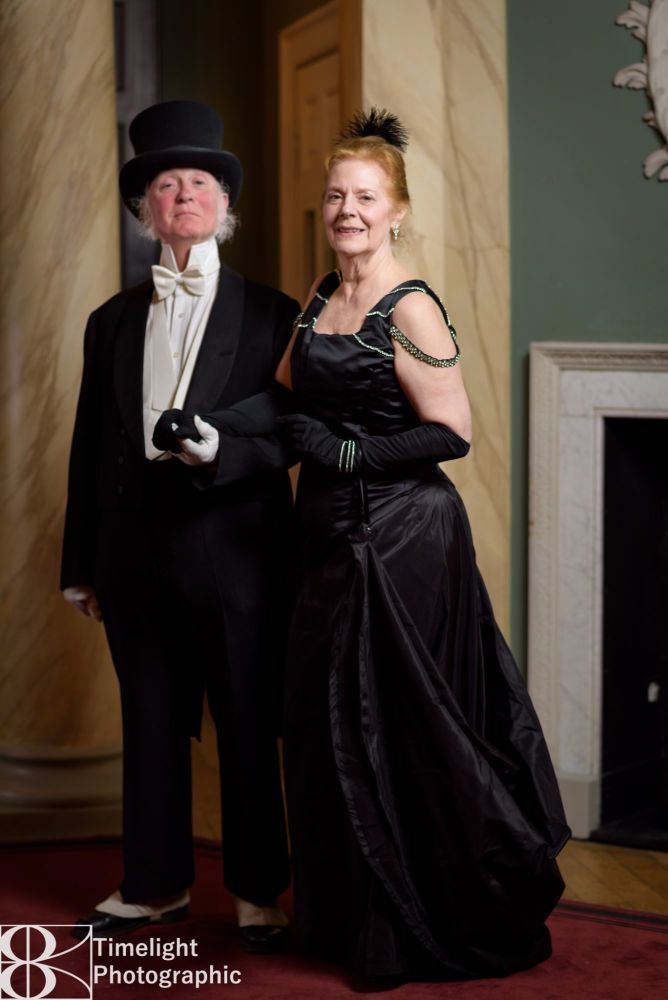 Prior Attire will not be liable to any damage to garment or body that results from a train dragging on
Current perks for ticket holders - just as last year, the list will be expanding over the next few months!:
1.Prior Attire, Dressing History, Pinsent Tailoring, Virginia Crawford and Kitty Power Costume are offering 10% off the labour prices if you commission an attire for the ball.
2.American duchess – everything is 10% off from November 1 to April 1. The code tbc
Just like in the previous years, to revive us after the ball, we will be meeting at Pump Rooms for breakfast on Sunday (booking a table advisable - most of us is booking for around 10am). The food is amazing, the building spectacular and live classical music playing too - a perfect background for a Victorian matinee:-)
In the previous years we would add more activities before or after the ball - picnics, carriage rides, boating trips - I will keep you posted what the plans involve for next year...
All the updates will be posted both here and in our facebook event
To help with decisions, a board with Victorian ball fashions for the First bustle era has been set up on Pinterest - Here

The tickets for the ball and the workshop can be purchased in our shop soon
Additional information:
Menu -
Hot dishes:

Jerk chicken with coriander yoghurt
Cod and chips with mushy peas
Leek & Bath Ale rarebit with onion confit
Cold dishes

West Country chicken liver parfait with Somerset apple jam
Quickes Cheddar scones with red onion chutney
Desserts

Mini lemon & raspberry tarts
Coffee & chocolate choux pastries
Special dietary requirements catered for - please leave note when purchasing your ticket, or contact me a month prior to the event.
Timings -
the dance workshop - 3pm, Assembly rooms
The Ball
door open at 7 -drinks, photography and socialising
8pm. dancing commences
9.15pm Break for buffet and drinks
10pm dancing continues till 11.30
11.45pm Carriages
12.00 Good night.... :-)
Dancing
We will practice most dances during the workshop, and they will be also explained , and called at the ball -so dont worry about your abilities, just join in, most of them are simple and easy to follow. If you have ever danced at a Georgian or a Regeny ball, Victorian is not that much different:-)
When you receive your tickets, the carnet du bal ( dance card) will be attached, so that you can plan and book the partners ahead:-)
2018 programme:
Grand March
Spanish waltz
Polka
Haste to the Wedding
The Princess Alice Waltz quadrille
Gallop
Vienesse Waltz
interval
Mr.Hart's Lancers
Boston Two step
Waltz Cotillion
La Tempete
Sir Roger de Coverly
North Downs Waltz
Vienesse Waltz
Gallop- Flirtation Finale
Below you will find the files with instructions
links with videos:
PRIOR ATTIRE - 19TH CENTURY BALL- BATH 2016

Grand Polonaise

This is stage choreography, hence all the bows and courtesy- the footwork is perfect.

Spanish Waltz

This is the folk version and very similar. We will not be turning back to back (30 secs in) but will face partner, balance forwards & back.

Boston 2 Step

https://www.youtube.com/watch?v=0ngVLzm1FuI

La Tempete

No version available.

The Lancers Quadrille

2. https://www.youtube.com/watch?v=9bY8SpJsn_4

3. https://www.youtube.com/watch?v=BsjrAGQiQe8

1. This is Duval's Lancers figures 1,2 &3 which is the same as Hart's (the version for the ball) with the first figure being slightly different- the men do not form a star or dance around-, instead, all face their corner, balance and turn corners.

2. La Visite (figure 4) This replaces Les Graces (figure 4)

3. Finale as will be danced at the ball (the finale starts at 1:50)

Viennese Waltz

https://www.youtube.com/watch?v=fXqre5Egnmo

This is a good version as it as the English dancing master taught the waltz (men start on the left foot)

Queen Victoria's Country Dance

No version available

Quadrille- Les Graces

https://www.youtube.com/watch?v=BsjrAGQiQe8

Your dancing master is dancing and playing!

Polka Française

https://www.youtube.com/watch?v=ajxfQk_zbjM

The polka does not have a set pattern of figures

Dashing White Sergeant

http://www.bbc.co.uk/programmes/p01n7bgj

1/2 Waltz Cotillion

https://www.youtube.com/watch?v=SvmzVwWdRB8

Your very own dancing master is the first gentleman. We may do the half or full version at our ball- time dependant.

Sir Roger de Coverly

https://www.youtube.com/watch?v=NjwrSy_YI2Q

This shows the energy that is needed and the couple formation. - The figures will vary- be warned!

Duke of Kent's Waltz

No suitable version available

I cannot find a film of the original 19th C. version- there are many versions of Cecil Sharp's 1920's interpretation , it is different from the original as they dance them as 2 couple dances rather than 3. We will dance the original 3 couple version.

Gallop (Flirtation Finale)

This is the RSCD version. We will dance the 19th Century version- the men on returning from the centre face the lady on their left and have their back along the line of dance (not to the centre of the room), we will gallop and not promenade