Bespoke Clothing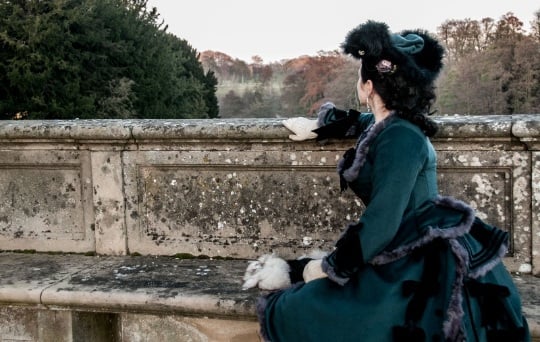 Ordering
If you are interested in placing an order, please fill in our enquiry form. We will contact you as soon as possible and discuss the particulars of your order – sizing, style, level of authenticity, fabrics, trimmings, costs, delivery method and expected completion date. All the particulars will be discussed, agreed on and a contract will be issued for every customer, specifying the details of the order, time of delivery, method of payment and general Terms and Conditions.
Please take note that we make items from Anglo Saxon to Edwardian era - however, we do not make 19th century men's clothing (with a few exceptions for Regency military uniforms) - the coats, trousers and Victorian waistcoats are just not our cup of tea, and I would recommend a tailor, not a dressmaker to cater for men's outfits. Also, we do not make cosplay, fantasy or modern clothing - but happy to recommend people that do!
All out items are made bespoke - and as such measuring and fitting sessions will be required to assure the best fit. If you live nearby we are happy to arrange for a meeting to take your measurements personally, or we can meet you at one of the markets we frequent. The fittings etc will take place in our studio in Buckinghamshire, and appointments are available during the weekdays, 10-16.
Please note, the visits to the studio are strictly by appointemnt only - for the clients who have a signed contract and are coming for fittings/consultation.
If you are unsure as to what clothing, materials, techniques etc you need, we provide a consultation service prior to your booking - at £50 the foundation research is done for you and you will receive all information pertinent to your order - pictures and examples of clothing suitable for the station and purpose, list of fabric requirements , notions, decoration etc, as well as links to providers of milinery, jewelley and accessories suitable for the persona you wish portray. If you later decide to place the order, the consultation fee will be waivered - deducted from your deposit.
Please book well in advance - we tend to be fully booked for about 8-12 months in advance. We are sometimes able to cater for last minute orders, especially if they are simple garments, so please drop us a line! An order is only considered as booked when the contract has been signed and deposit paid.
We are also providing clothing made to generic sizes - available in our Online shop. There is not much as we tend to be busy with commissions, and whenever we add new items they tend to go quickly, but we are working hard on replenishing stock as much as we can - so please check regularly to see newly added items:-). Stock items are priced lower than bespoke garments - mostly because they do not require fitting and measuring sessions etc, so if you see items that would work for you it is well worth snapping them up.Usually generic items like petticoats, skirts, chemises, sleeves, corsets etc are the most popular as they offer substantial savings without compromising the quality.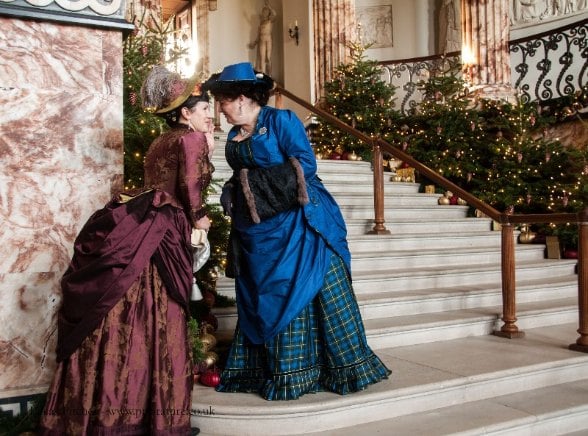 Authenticity standards
We aim to provide our customer with garments as close to the original as possible. We realise however that for some of our customers the 100% authenticity is not the most essential factor and in such cases they would be unwilling to pay elevated prices for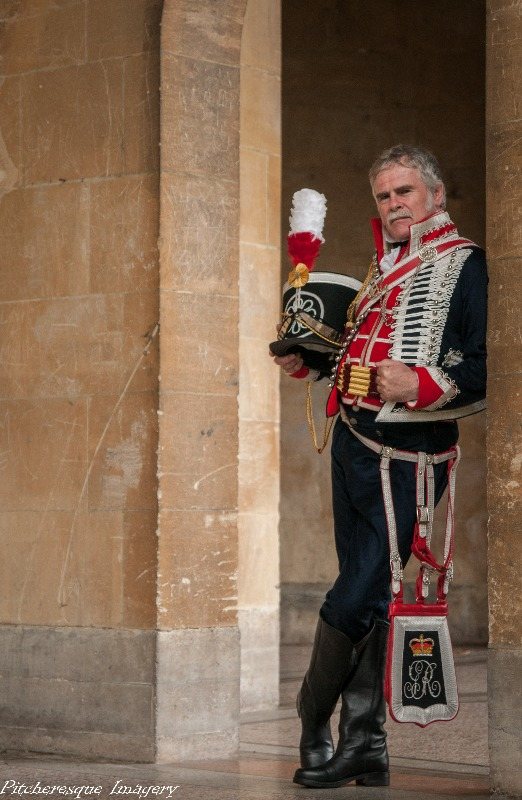 features that they deem redundant. To address the problem, we offer our items in three categories, ranging from the most expensive Business option to the modestly priced Economy one.
The garment is entirely hand stitched using linen/wool/silk threads. If necessary, we may assist in sourcing hand-woven fabric and natural dyes. The embellishments are handmade and are correct for the period. Please note that from about mid 19th century machine stitching is indeed authentic:-)
The garment's main seams are machine sewn and then couched down by hand so that no machine seams are visible. Hem, neck, cuffs, lining are finished by hand as well. Buttonholes are hand stitched unless specified otherwise. Woollen, linen or silk threads are used for all stitches.
As above, but the interior seams are not couched down ( overlocker used instead), the buttonholes are machine made, some parts of the lining and trims may be machine sewn as well. Victorian and Edwardian items may have inside seams finished by an overlocker too.
Most, though not all of the off the peg items in our shop will fall into this category.
Fabrics: we use mainly wool, linen and silk, and cotton as appropriate for the period. Calico may be used for interlining in the economy version. We are happy to work with the fabric provided by a customer and then, although we will advise the customer on what fabric is appropriate for the chosen period, the authenticity of the fabric is at the discretion of the customer, but as a rule, we reserve the right to decline the commission if fabric is not suitable for the period.
All our garments, regardless of the category, are well researched and are usually based on the original items, paintings, sculptures and woodcuts.
Please note, we no longer make fantasy/steampunk items.

Cost
Once all the details of the commission have been agreed, you will be provided with a quotation. We will require a deposit, usually around 40% of the total price: that will usually cover the price of fabric, trims etc. We are happy to use fabric supplied by our customers, and in such a case the deposit will be around 30%. Once the work has been started on the garment, the deposit is not refundable.
The total price, including the post and packaging fee, is paid before the item is shipped, within 2 weeks of the notification of the completion of the order. We will keep unpaid items for a month and after that they will be advertised for sale.
We accept Paypal, bank transfers and cash. At the markets and in our online shop we can now accept credid and debit cards too!
Fabrics.

We can, and often do provide fabrics suitable for the outfit - but bear in mind that we will not use wrong fabrics for historical garments ( ex. cotton velvet or chenille for medieval, poly silks etc). We can provide wool, linen, cotton, silk ( mostly James Hare) and we do not charge retail prices on them - if the James Hare silk cost us £40 per metre ( with VAT and transport charges), we charge exactly that - not the retail price of £80.
Prices
These prices are meant to act as guidelines only : they are based on the simplest styles in economy finish ): the actual price will depend on the style, fabric or decorations used.
These prices are per labour only, not including the cost of the fabric or embellishments.
Prices include measuring and fitting sessions.
All commissions will be made under contract - specifying all details of the outfit, delivery costing, deposit etc.
Medieval Garments
Women
Smocks £70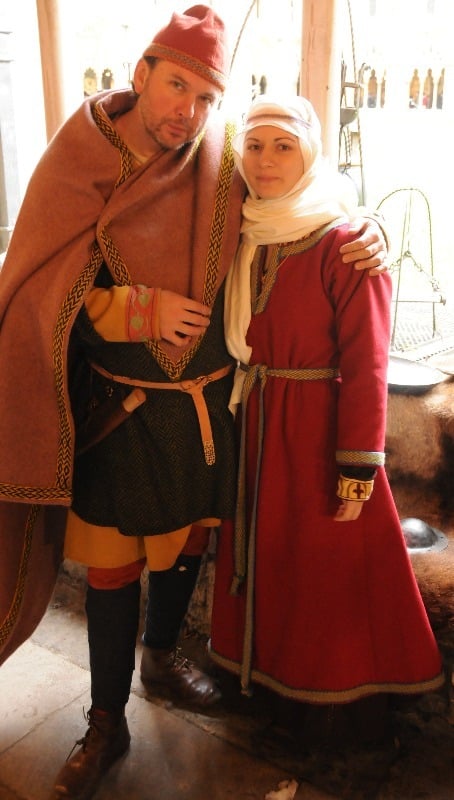 Kirtles (unlaced) from £180 (laced) from £250
Surcoats (fully lined) from £180
Gowns (fully lined) from £350
Men Shirts from £90
Tunics from £90
Cloaks from £160
Doublets (fully lined) from £250
Gowns (fully lined) from £380
Chaperons from £80
Tudor and Elizabethan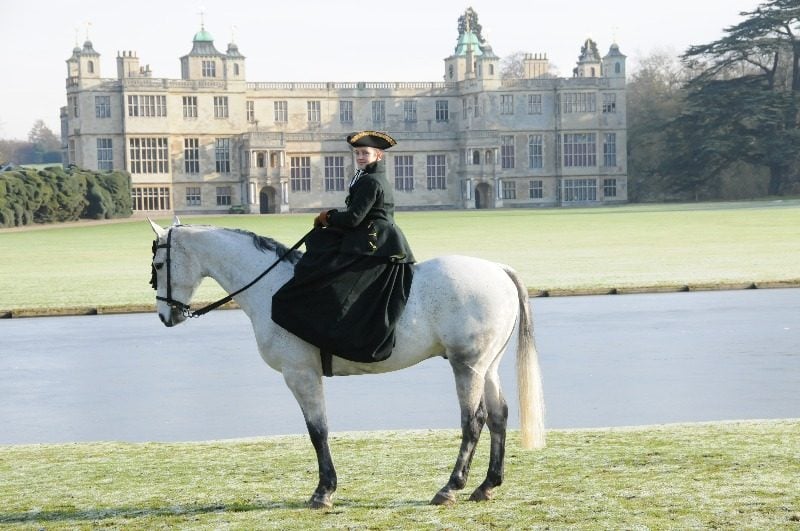 Women
Smocks from £90
Stays - from £360
Kirtles from £300
Bodices from £280
Petticoats/skirts from £110
Gowns from £500
Men
Shirts from £90
Breeches from £180
Doublets or jerkins from £300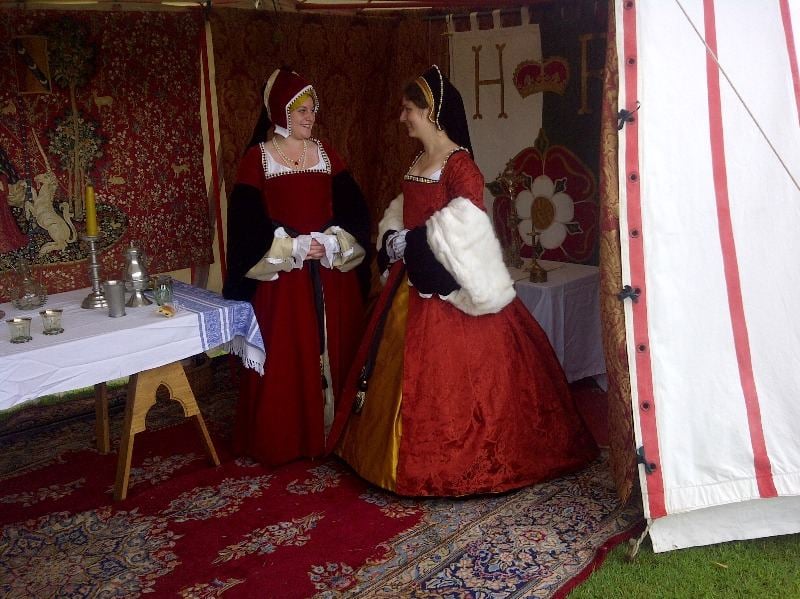 Gowns from £270
17th Century
Women
Smocks from £90
Skirts from £100
stays: from £350
Bodices from £350
Gowns from £400
Men
Shirts from £90
Breeches from £180
Doublets from £300
Coats from £190
Casaques from £300
18th century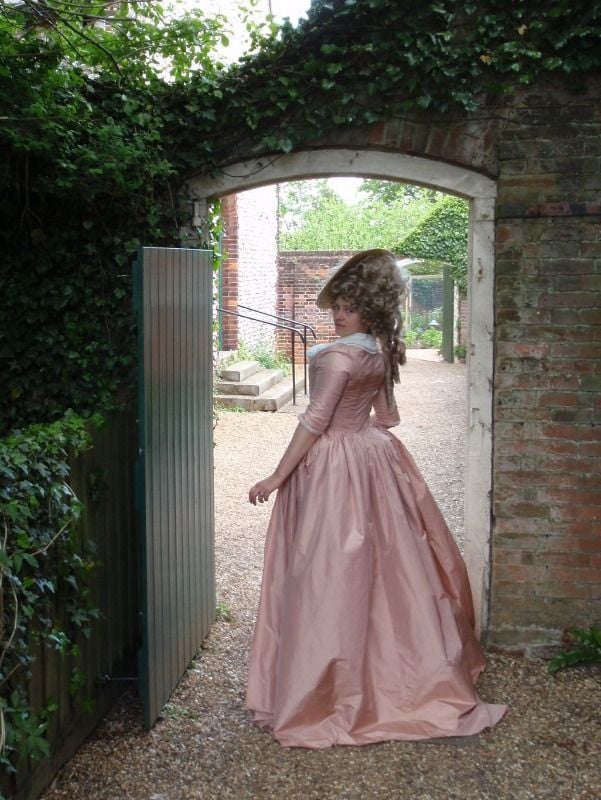 women
stays from £450
petticoats from £100
pocket hoops from £90
jackets from £270
Robe anglaise, polonaises etc from £420
Robe francaise from £570
men
shirts from £90
breeches from £190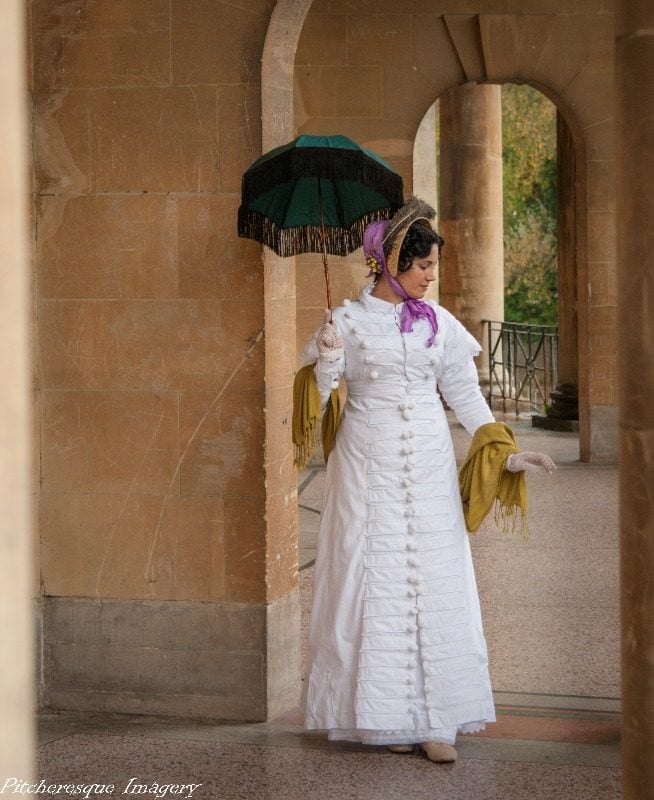 waistcoats from £170
Frock coats etc from £550
19th century
Regency,
women
Stays/early corsets from £350
shifts from £90
petticoats from £100
dresses from £300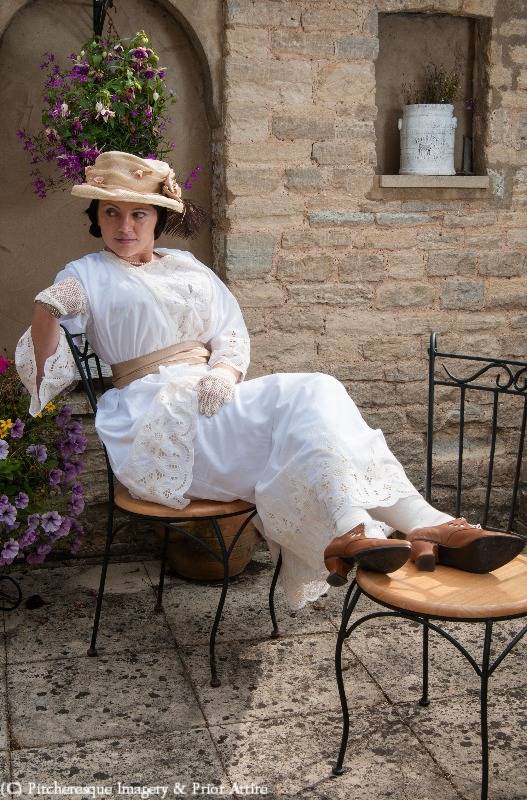 Spencer jackets from £220
pelisses from £370
Riding habits from £400
Military waistcoats - from £380
Military dolmans etc - from £700
Victorian/Edwardian
chemises from £70
drawers from £60
combinations from £90
Corset covers from £50
Bustle cages from £100
crinoline cages from £220
Petticoats from £90 -£150 depending on style
Flounced petticoats from £120
corsets from £370
skirts from £170
overskirts from £150
bodices from £350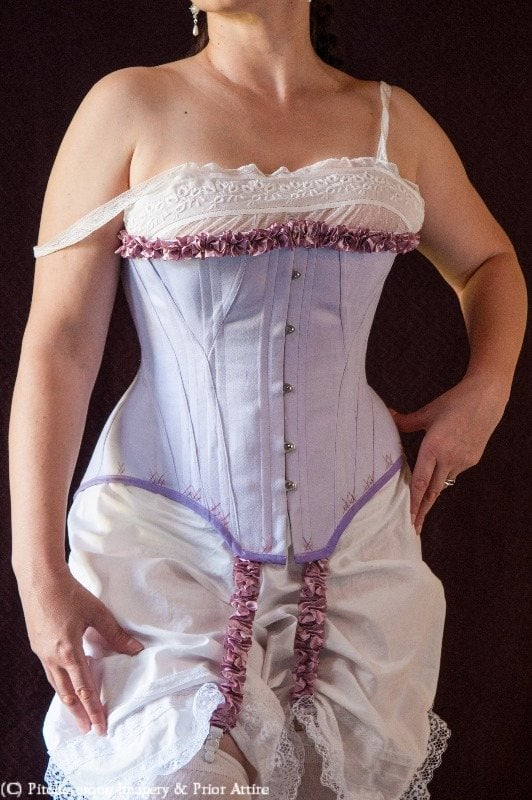 Mantles, dolmans, etc from £170
Riding Habits
Please note we only make historical riding habits - we do not make fantasy or concurs outfits loosely based on historical fashions, and we do not make modern sidesaddle habits either - a different area of expertise!
Our habits are designed to be worn over period correct undergarments ( stays for 17th-18th century, corsets for 19th) and will be make using correct materials and decorations.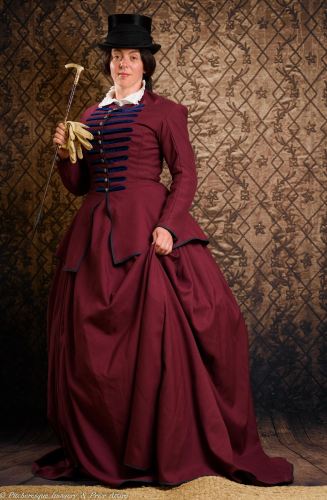 Labour prices examples ( do not include fabrics or undergarments):
18th century habits - from £460
Regency habits - from £380
Victorian habits - from £470
We do occassionally have sample and stock habits available in our shop - these are made to generic measurements and are offered at very attractive prices. We also stock Victorian riding corsets ( or make them bespoke) - so check our shop first!
Post and package
Post and package is not included in the overall cost of the garment, and will differ depending on the weight of the parcel and what service you prefer. We will give you an estimate before invoicing you – and if it turns out less that we had expected, we will refund the difference.
Returns
Returns are accepted on all our shop items- the garment is to be sent back within 2 weeks in unchanged condition and unworn. We do not accept returns on custom orders.
Discounts
We are happy to give a 10% discount on multiple orders (3 items or more) if the items are commissioned within a period of 2 months.